Sample anaphylaxis policy for schools

Sample anaphylaxis policy for schools41.75 KB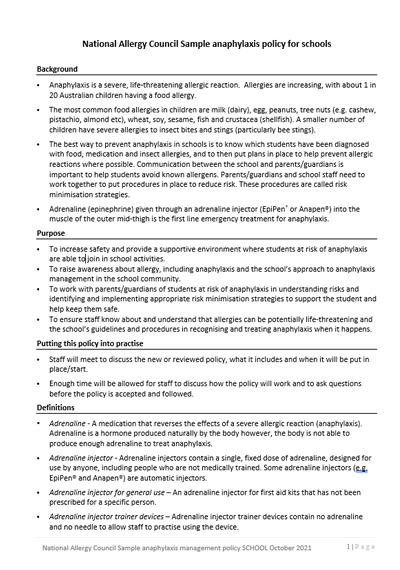 Policies help to guide practice and make sure that everyone understands how the school plans to manage allergy.
This sample anaphylaxis policy has been provided to help schools to develop a site specific anaphylaxis policy.
The range of anaphylaxis prevention and management strategies implemented may vary between schools and between primary and secondary campuses, therefore the school's policy needs to be site specific.
This sample policy does not include all required information (e.g. risk minimisation strategies to be implemented) and therefore is to be used as a guide.
In some jurisdictions, overarching policies are developed by the state Education Department and these should be followed by schools in those jurisdictions rather than developing a site-specific policy. Schools should check the requirements in their specific state and territory.
Content updated May 2023.